Deliver Us The Moon is set in an apocalyptic near future, where Earth's natural resources are depleted. A lunar colony providing a vital supply of energy has gone silent. A lone astronaut is sent to the moon on a critical mission to save humanity from extinction. Will you save mankind or be forgotten in the dark abyss of Space?


Play the critically-acclaimed Deliver Us The Moon on next-gen consoles for the first time. Experience the fully remastered version of the game in stunning 4K, with out of this world visuals and next-gen features that add new levels of immersion to this epic sci-fi thriller – in the ultimate edition of KeokeN Interactive's award-winning game.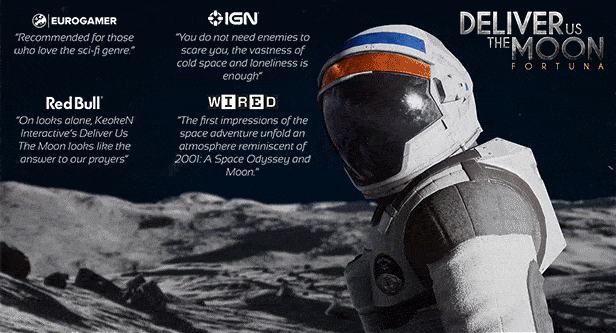 Features:
Tackle real world issues
1st and 3rd Person perspective, including driving numerous vehicles
Vast, open moonscape to explore and discover
Claustrophobic, suspense driven action
Anti-gravity gameplay sequences
Clever, challenging puzzles
Haunting, orchestral soundtrack
Powered by Unreal® Engine 4
Next Gen Upgrades:
Fully remastered in 4K with ray-traced shadows and reflections
Jump into the action quicker with faster loading times
Adaptive triggers and controller speakers (PlayStation 5)
PlayStation 4 and Xbox One owners upgrade to Next Gen version for free
Get more from your games! Look for the Wired Rewards logo on the back of game cases! Inside you'll find a Reward code that you can redeem at www.wiredrewards.com! Here you'll find digital artbooks, soundtracks and exclusive content! It's our way of saying thank you!
Deliver Us The Moon © 2022 Keoken Interactive. Published by Wired Productions Ltd and developed by Keoken Interactive. All Rights Reserved.
Trailer