What's In The Box, Bob? | Martha Is Dead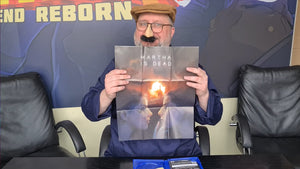 Bob pays a visit to the Tuscan countryside to investigate the contents of the physical release of the award winning Martha Is Dead - available right now on PlayStation 4 and PlayStation 5 direct from the Wired Store : Buy Martha Is Dead Physical 


Martha Is Dead is a dark first-person psychological thriller, set in 1944 Italy, that blurs the lines between reality, superstition and the tragedy of war.

As conflict intensifies between German and Allied forces, the desecrated body of a woman is found drowned… Martha!

Martha is dead, and her twin sister Giulia, the young daughter of a German soldier, must alone deal with the acute trauma of loss and the fallout from her murder. The hunt for the truth is shrouded by mysterious folklore and the extreme horror of war that draws ever closer.

The Martha Is Dead boxed edition includes an exclusive reversible inlay and fold out double-sided A3 poster, along with a collectible sticker set and a digital download tarot card pack, based on the cards in-game and contains a PEGI/Region free copy of the game.
The game is recommended for an adult audience and is rated ESRB M (Mature), PEGI 18 and USK 16. It is not recommended for players who may find depictions of mature scenes containing blood, dismemberment, disfigurement of human bodies, miscarriage and self-harm disturbing.