Product Update | Black Label #01 and #02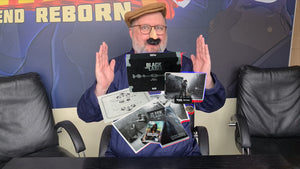 Good news everyone!

Those of you who pre-ordered either of our first Black Label releases will be receiving them VERY soon, productions is finished and we are getting ready to distribute them around the world and into your loving arms.

Bob is here to share some fresh new 'direct from the production line' shots for you whilst he waits for them to drop in our lap and do a proper unboxing!


Want to see the rest of the images in all their glory? Check out the Wired News Blog : Black Label Gallery

The Black Label is a highly collectable and limited range that celebrates the developers and art of many Wired releases.
Limited to just 2,500 units with an exclusive pre-order window, The Black Label edition is a reflection of the way Wired curates its games.
It is a celebration of art, music and of course the games.  The collection is a celebration of the Wired ethos and these experiences, each one beautifully carved into this stylish series for you to enjoy. We wanted to create something truly unique, something 'Wired' and something for fans to celebrate great developers and their favourite games.

You can pre-order your very own Black Label direct from the Wired Store, currently featuring Victor Vran, and The Town Of Light - though Bob will be announcing what is in BL03 very soon....

Pre-order The Black Label