Black Label Ships Today!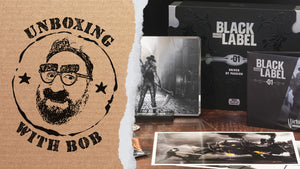 It's here!
Bob has finally got his hands on our Black Label Collection, and is taking a little peak inside the box before sending the others out to everyone who pre-ordered!
Following a successful pre-order campaign, the prestigious Black Label has limited stock available to purchase now from either the
Wired Productions Store
for £69.99 or
Limited Run Games
for $79.99 for North American customers!


The Black Label is a celebration of the art, music, the developers, and their games. Beautifully crafted, spotlighting the eclectic games Wired have published from  the developers they love, the award-winning Action RPG Victor Vran: Overkill Edition holds the coveted Black Label #01 moniker. Reflecting on the friendships created with developer Haemimont Games, a connection based on mutual understanding, similar principles, ways of working and tastes in music, there was no other choice than Victor Vran to kick off the Black Label series. 
 
Meanwhile, first person psychological adventure, The Town of Light, was a catalyst to many movements within the gaming industry, such as the formation of the video games mental health charity, Safe In Our World. The debut game by LKA, the award-winning Italian studio behind Martha Is Dead, dug its roots deep in historical facts, with a personal story and hope to make players not only think, but also talk about the views and behaviours around mental health historically. 

Thank you to everyone who pre-ordered, we can't wait to see your reactions once you receive them - we'll be sharing more information about which game is included in Black Label #03 very soon!